WALNUT ORCHESTRAL BOX 35,5 Ø X 16 CM NATURAL HELMET METAL RINGS SINGLE FLANGE P.LEATHER B.STEEL THREADS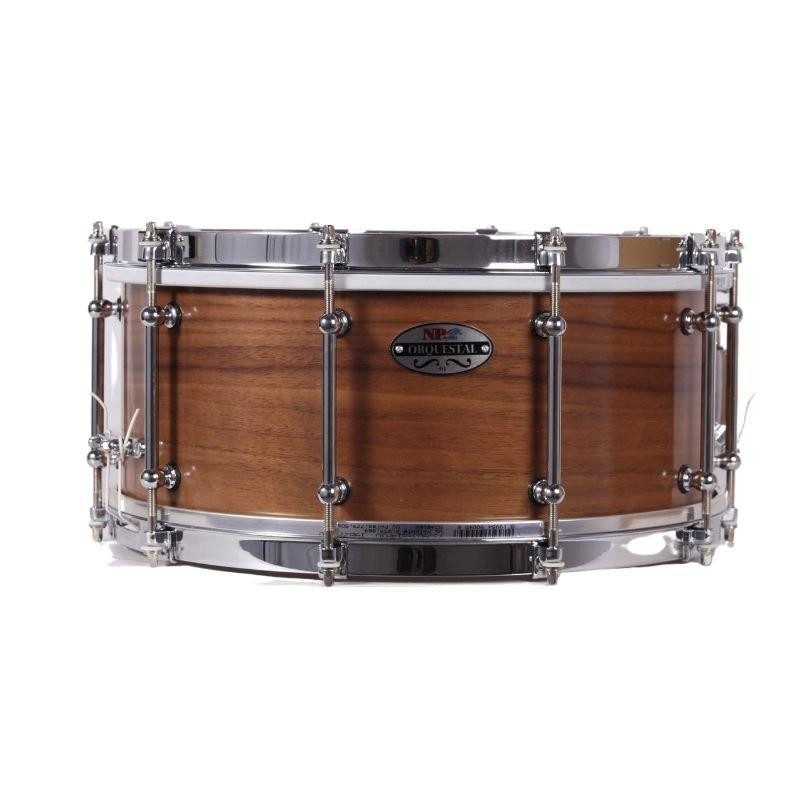  
Beauty is in the heart, do you like a new sensation when hitting? try the new orchestral box NPdrums® of 35.6 Ø X 16 cm. You will see that it has a magnificent varnished American walnut helmet, and that it produces a warm and round sound with an excellent response. Improved bass, complex tonality in a sound that cannot be replaced. The walnut helmet has a perfect classic look finish and with its aggressive sound thanks to the hardness of the walnut produces that different sound. The threaded tube hardware displays a striking contrast. This model mounted with triple chrome flange metal rings provides a dry and sharp stick. Try this original model and go back to the 60s with your rock band or orchestra.
Description
- Orchestral Box 35,5 Ø X 16 cm.
- Walnut wood hull 6 mm 7ply.
- Metal ring flange simple beater. (31-6850-00)
- Metal ring simple flange bordonero. (31-6860-00)
- Quick box lever to regulate the board. (30-1230-00)
- Fixed bridge bordonero. (30-1340-00)
- Bordonero steel cable.
- 10 acorns of tube in brass 6mm with independent tension. (30-1940-00)
- 20 screws M-6x40mm in chrome. (30-3780-00)
- 20 chrome metal washers. (30-3420-00)
- 20 nylon washers. (30-3450-00)
- Key to refine chrome finish. (30-2980-00)
- Whisk patch generates dry granules 250 microns. (B14HDD)
- Patch 75 microns. (S14H30)
- Weight 3,000 kg.
- Ideal for soloists of orchestras and symphonic bands.
- Items out of stock 8 days of manufacture.
Security Policy (edit with the Customer Trust and Security Information module)

Shipping policy (edit with the Customer Trust and Security Information module)

Return policy (edit with the Customer Trust and Security Information module)
Sheet
Hull Finish

Decorated Wood

Helmet Color

(16) Natural Lacquer

Hull Measures

35.5 Ø X 16 CM

Hoop Type

Metal ring Single flange

Type of Bordonero

Bordonero steel cable
Opinions
No opinions at the moment